Life in Osaka
The school dormitory is located right next to Nipponbashi, a very lively and convenient area. Our school is located in the city center, and is close to train stations; there are 3 subway lines, 2 private railways, and the JR line that connects all of Japan. North of the school and 10 minutes away by foot is Umeda and the JR Osaka Station. Located 30 minutes away by subway is a big shopping mall, municipal facilities, leading IT facilities, and more. During the weekends, students can head South of the city and visit the Osaka Aquarium and the surrounding shopping malls, or take the subway for 20 minutes and go downtown, visit the Osaka Castle, and the Osaka Business Park.
One day in the life of a student
8:30 Getting out of the dormitory

It takes around 10 to 15 minutes to get from the dormitory to the school by foot.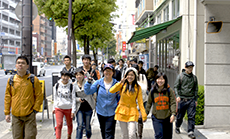 9:00 Morning classes start

All students are placed in different classes according to their level and different goals,  we make sure that everyone can make progress according to their own needs so please feel reassured.
12:50 End of classes
For lunch students either make their own "bento" (Japanese for lunch box) or buy it on the supermarket nearby. There are students that eat lunch in restaurants as well. Close to the school, you can find the longest commercial district in Japan (2,6km). When exams get closer some students stay in school after classes to study.
14:00 Part time job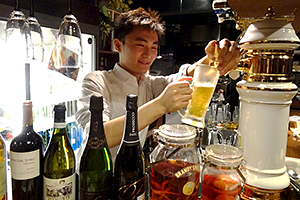 There are a lot of students that have a part-time job outside class hours. It's normal to get dinner for free if you are working in a restaurant at night.
19:00 Going back home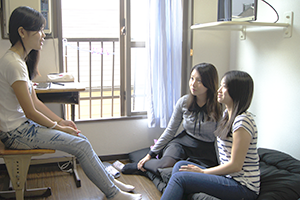 After going back home students are free to relax, cook dinner or spend time together with their dorm's friends. After finishing their homework and preparing for next day's classes it's time to get ready to sleep.
School Dormitory
1 person per room
It takes 10 minutes to walk from the dormitory to the school.
There are an air conditioner and refrigerator in the room. The gas, water, and Internet are free.
The basic living necessities are provided. Spoon, table, toilet paper, and etc..
The dormitory has an auto lock on the front door and there is a female staff member available everyday.
A coin laundry room is present within the dormitory.
Arubaito (Part-time job)
International students are legally permitted to work part-time for up to 28 hours per week (according to Article 19 of the Immigration Control and Refugee Recognition Act). There are strict rules and regulations regarding part-time work. Details regarding the rules and regulations will be explained during school orientation.
Student Discount
We are a school corporation approved by the Ministry of Education, Culture, Sports, Science and Technology, and this allows the students to get train passes at half price, student discount at the cinema, museums and other establishments.
About Osaka
Video introducing Osaka (created by OBKG alumni)
Recommended -> 

Sightseeing in Osaka
There are many sightseeing spots in the areas surrounding OBKG
Sightseeing Destinations in Neighboring Cities
Sightseeing destinations that can be reached within 1 hour by train, and ideal for one-day trips.
Events throughout the year
April

May

Foreign National Registration, Health Insurance Registration(New students)

Mock test in school to prepare for EJU

Information session on road safety

June

July

Start of new term/ School entrance ceremony
(students admitted in July)
JLPT
End-of-term examination, health exam,
attend Tenjin Festival

September

October

Start of new term/ School entrance ceremony
(students admitted in October)

Mock test in school to prepare for EJU

Preparation for Private University examination

November

December

January

February

Setsubun (day marking the end of Winter)
Bean-Throwing Festival
Sports day

March
TEL: 06-6882-1435
+81-6-6882-1435
Mail: obkg@japanese.ac.jp
QQ: 2240966659