Courses and Tuition
Courses
Admission Requirements

Minimum of 12 years of education (has at least graduated high school) or equivalent

Maximum Number of Students

500 students
Long-term course
Month of Enrollment

Course Length

Application Period

April

2 years (University preparation/ General)




1 year (General only)

October 1 - November 1

July

1 year 9 months (University preparation/ General)

January 10 - March 1

October

1 year 6 months (University preparation/ General)

April 1 - May 15

January

1 year 3 months (University preparation/ General)

July 1 - August 15
Short-term course
Month of Enrollment

Course Length

Application Period

Anytime

12 weeks (short term)
  8 weeks (short term)


Anytime
Tuition
Screening fee

JPY 20,000- (

Upon application

)

Note

In the case that Student Visa cannot be issued by the Japanese embassy, Admission fee and Screening fee WILL NOT be refunded.

Japanese National Health Insurance fee (¥ 20,000/1 year) is to be paid upon issuance of Certificate of Eligibility)
Long-term course
Course

Admission fee

Tuition fee

Extra Curricular Activities fee

Tuition fee

Extra Curricular Activities fee

1 year 3 months

JPY 8

0,000-

JPY 

640,000-

JPY 

80,000-

JPY 

160,000-

JPY 

10,000-
1 year 6 months

JPY 8

0,000-

JPY 

640,000-

JPY 

80,000-

JPY 

320,000-

JPY 

20,000-
1 year 9 months

JPY 8

0,000-

JPY 

640,000-

JPY 

80,000-

JPY 

480,000-

JPY 

30,000-
2 year

JPY 8

0,000-

JPY 

640,000-

JPY 

80,000-

JPY 

640,000-

JPY 

40,000-
 

First academic year

Second academic year
Short-term course
Course

Admission fee

Tuition fee

12weeks
(240hours)

JPY 30,000-

JPY 15

0,000-
8weeks
(160hours)


JPY 

30,000-

JPY 100

,000-
4weeks
(80hours)

JPY 

30,000-

JPY 50,000-
Dormitory
Dormitory processing fee

Boarding fee
(3 months)
Utility fees
(electricity)
JPY 70,000-
JPY 132,000-

Differs according to usage
1 person per room
It takes 10 minutes to walk from the dormitory to the school.
There is an air conditioner and refrigerator in the room. The gas, water, and Internet is free.
The basic living necessicites are provided. Spoon,table, toilet paper, and etc..
The dormitory has an auto lock on the front door and there is a female staff member available everday.
A coin laundry room is present within the dormitory.
Please click here for pictures of the school dormitory and student life in Osaka. 
Scholarship System
Scholarships from OBKG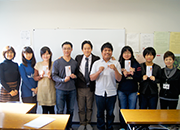 OBKG Academic Scholarship for JLPT N1/N2 top scorers
OBKG Academic Scholarship for EJU top scorers

One-time scholarship granted by OBKG twice a year (Spring and Autumn) to outstanding students. Recipients will receive   ¥ 50,000.
Japan Student Services Organization (JASSO) Scholarship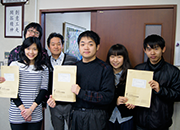 JPY 30,000/month x 12 months
Private Lessons
One-on-one lessons for students who wish to learn and/or improve their conversation skills, Kanji, Business Japanese skills, JLPT preparation, everyday conversation skills, and other areas. The contents of the lessons will be based on the student's objectives and Japanese language skills.
Admission Fee

JPY 30,000-

Tuition fee

JPY 150,000- (

90 minutes/lesson x 25 lessons

)

Schedule



Weekdays only. Day and time can be discussed with the person in charge
TEL: 06-6882-1435
+81-6-6882-1435
Mail: obkg@japanese.ac.jp
QQ: 2240966659